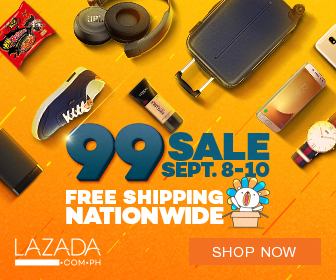 Lazada has an ongoing 3-Day Sale from September 8 – 10 where they are offering FREE SHIPPING on EVERYTHING!
FREE SHIPPING DURING THE LAZADA 9.9 SALE!
Lazada will have some P99-PESO DEALS as well as provide FREE SHIPPING NATIONWIDE during the sale!
For 3 days, shipping fee will be waived where ever the customers are in the Philippines, regardless of the total amount of the order! Yes! Even bulky items like refrigerators or cabinets can be shipped to as far as Mindanao free of shipping fees!
Take a look at ALL THE SALE ITEMS HERE.
You can browse through the Bestsellers and find some good deals.
Check out the special Bundles & Freebies that they have just for this sale.
I share the latest sale alerts I find on my Facebook page! Please LIKE to stay updated on the best deals I find!
If you enjoyed this post or found it useful, please share it and leave a comment! I love hearing from you!
xoxo,
The Barat Queen
Disclaimer: The comments section is not moderated to encourage honest comments from readers. Reader comments do not reflect the views of BaratAko.com. However, if you find abusive comments, please report them using the Report link.